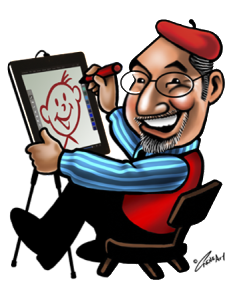 Live Digital Caricatures
Rene has been delighting guests with Traditional Caricatures since 1993 at all type of private and corporate events. Now Rene has added Live Digital Caricaturing to his repertoire and some clients include Citco, Stanford University, Google, Microsoft, Apple and many more.
It's Entertainment your guest will love as a Printed Keepsake, or a Promotional Giveaway all in one!
For samples, bookings and more info see below…

Great fun, mass appeal and ideal visibility for:
Trade Shows,
Corporate Events,
Wedding Receptions,
Bar/Bat Mitzvahs
Winery 

Events

Holiday Parties … etc.
Venue requirements:
2-3 Chairs,
1 high table (preferred),
Nearby electrical outlet is a must !!
Indoor set-up (preferred), and away from any loud speakers and nearby high traffic doors.
If outdoors a well shaded area protected from the elements with a solid and even ground is required.
Services:
René will arrive appropriately attired, with his own art equipment: iPadPro, small photo printer, etc., to create personalized digital caricatures for your guests to enjoy.
For visibility a large 32″ flat vertical screen TV monitor with tabletop stand is used for crowd's entertainment as the drawing unfolds.
All digital caricatures are drawn in color, or in black and white if preferred for quicker results.
Printed on the spot on a 4×6-inch photo paper and placed inside a protective transparent sleeve for your guest's keepsake or Promotional Giveaway.
Your logo is on each print (logo must be provided in advance as a high quality PDF, PNG or JPEG format by client. For weddings, bride & groom's names and date are added instead.
Post event Digital files are provided via Dropbox and can be download free of charge.
Extras: 
Strolling, by request only (no extra charge).
Larger printer available for 8.5×11-inch on-the-spot prints. (An extra fee may apply).
Badge holders with Lanyards for 4×6-inch printouts (for an extra fee).
Folders (for an extra fee).
Floor stand tripod mount for TV monitor by request only (extra fee applies).
Click here for rates, booking and additional information.
Days fill quickly…Book Now!